A Revenues Manager's guide to webCAPTURE
Discover how to get more from digital process automation
Grab a coffee, fill out your details below to download our guide, and find out how you can automate up to 80% of the manual workload associated with processing your Revenues transactions. And most importantly, how Govtech's webCAPTURE service can help you achieve it.
We understand the challenges you face, and we've put together this simple guide to help you explore how webCAPTURE can help you overcome those challenges.
If you're a Revenues Manager, or looking to get more from digital transformation, then this is a must read. Our guide to 'Getting the most from digital process automation' includes:
What it is, what it does, and how it works

How it benefits you, your citizens, and your customers

Why it's needed, why it's important, and why you should take advantage of it
How do you evaluate the value of digital process automation for your service? It's time to find out…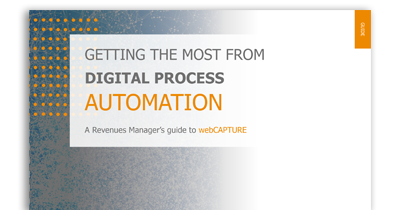 ENTER YOUR DETAILS TO GET STARTED >



I was particularly struck by the focus they placed on 'value'; that what they are doing, the problems they are solving, must generate a return that we can measure.
Peter Honeywell, Transformation Architecture Manager
Plymouth City Council