Capture the information you need, first time, with our web forms
Designed and created by Revenues & Benefits practitioners, Govtech's suite of web forms helps to provide a simple, efficient, and positive digital experience for your customers when they self-serve.
Creating a positive digital experience for Revenues & Benefits customers begins by capturing the right details
And this includes asking only relevant questions, enabling customers to provide responses without assistance and without them having to hunt for the last communication you sent them.
Revenues and Benefits transactions are complex. But as specialists in this area (it's all we do), our forms are designed to act just like an interview, asking the same questions that your skilled practitioners would ask and using the answers to determine the relevant next step; so, when a customer submits an online request, the process is simple. But that isn't what customers remember. What they remember is what happens next.
That's where our hosted digital process automation services are different.
We automate processing of their requests in the R&B system with interventions triggered only if a business rule determines that a council officer should get involved. Consequently, transactions are processed much quicker, work queues are lighter and the customer's end-to-end experience of digital self-service is enhanced. To understand how our forms interact with our webCAPTURE digital process automation service please click here.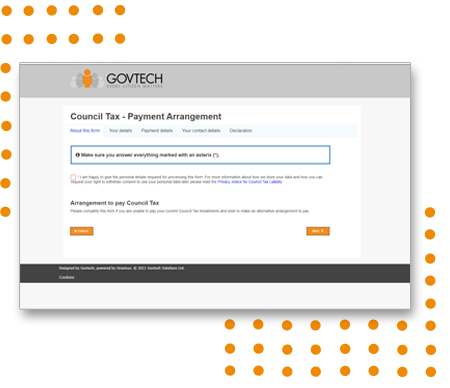 Our suite of Revenues & Benefits forms
Council Tax & Business Rates: Change of address
Move In, Move Out or Move Within the area. Incorporating Direct Debit, Paperless Billing registration, Unoccupied Discounts, Refunds and Credit Transfers, where applicable.
Council Tax & Business Rates: Direct debit
Ability to set up or amend direct debit details to cover Council Tax or Business Rates instalments. Bank details validated at point of entry.
Council Tax & Business Rates: Paperless Billing
Ability to register to receive future bills and correspondence electronically.
Council Tax & Business Rates: Copy Bill
Ability to request a copy of a Council Tax or Business Rates bill, as well as the option for it to be provided in a different format e.g. braille, large print, other language etc.
Council Tax: Single Occupier Discount
Citizens living alone can apply for a single person discount, including cases where a person has left the property or deceased.
Council Tax: Single Person Discount Cancel or Review
Enables a citizen to cancel their discount voluntarily or part of a review process. webCAPTURE manages the whole review process online with no manual intervention required.
Council Tax: Student discount
Households containing students can apply for a Council Tax discount or exemption. Includes automatic verification against Student lists and/or evidence upload of Student status.
Council Tax: Generic Discounts & Exemptions
Signposts citizens through simple questioning to apply for the correct disregard discount or exemption based on their circumstances. Evidence upload and built in eligibility checker to prevent frivolous applications.
Council Tax: Small Landlords - Change of Tenancy
Landlords or Agents within the area can notify the council of tenancy changes at one or more properties, including tenants coming into and/or leaving a property.
Council Tax: Large Landlords – Schedule
Not a web form but a means to import and automate the processing of bulk changes of tenancy, notified periodically by large landlords.
Council Tax: Payment Arrangement
Citizens who have fallen behind with their Council Tax payments but have not yet received a Summons can create a payment plan to catch up in accordance with the terms of the council.
Council Tax: Special Payment Arrangement
Citizens who have received a Summons but are unable to pay it in full or, if a Liability Order has been granted, can set up an arrangement to clear the debt in accordance with the terms of the council.
Legacy Housing Benefits and Council Tax Reduction
For low income citizens to apply for help with rent and/or Council Tax charges and, for Unitary Councils, an option to include Education Benefits such as Free School Meals and School Clothing Grants.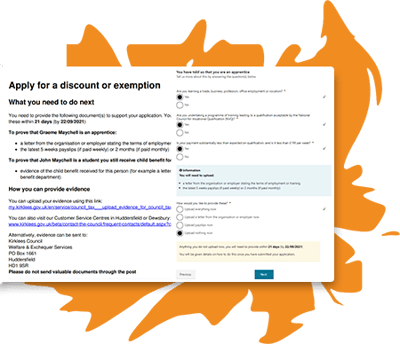 We ask the right questions

Designed & created by R&B practitioners

Easy to use, smart & intuitive

Enhanced digital experience for citizens

Full back-office integration and automation

Pre-population via MyAccount

Two-way integration with MyAccount

When a citizen completes a Govtech web form, they are emailed confirmation of receipt and can download and keep a PDF document rendition of the information they submitted. But we don't generate the same rendition for the council. The council's document rendition is created only after the transaction has been loaded into your R&B system and it incorporates not just what the citizen submitted but all of the relevant back office information and reference numbers that were used to automatically process the transaction.
If the transaction was completed, this document rendition is automatically loaded into your document management system with a status of Archived. If business rules triggered intervention, the document rendition will be automatically classified as a High, Medium or Low priority item and loaded into a document management work queue.
When an officer selects that item, they will see not only what the citizen has submitted but also what webCAPTURE has already done in the R&B system and why intervention has been triggered.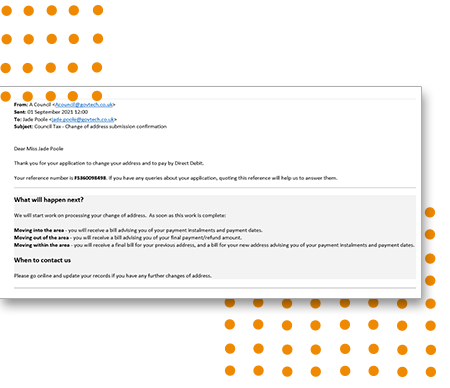 Our web forms are standard templates and these are localised for each council enabling the council to specify its own standard text, such as Privacy Policy and provides the ability to switch some features on or off (e.g. the ability to simply tick a box to register for paperless billing when completing a different form).

A simple to complete Localisation Document covers every item on every form that can be localised. Once live, changes can be requested at no cost and at any time by creating a ticket on the Govtech helpdesk and providing the updated details.
As standard, our forms adopt the current branding of your council including logo and colour styling.
Govtech's web forms, built on the Granicus-Firmstep govService customer experience platform, provide the broadest, most comprehensive and easiest to complete suite of Revenues web forms. That is why, despite having a choice to use any vendor's web forms, most of our customers choose ours to use with our digital process automation services.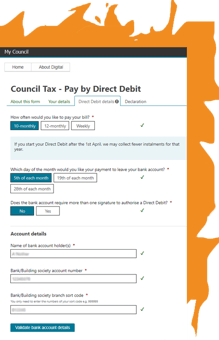 Take the first step
Web forms are just the beginning of your customer's digital experience. No matter what your starting point is, get in touch and our team will be pleased to arrange an informal conversation to understand what improvements you wish to make and explore ways that digital process automation can help you attain those goals. It's really more likely than not that we are already helping another council to do the same things, so you will be able to talk to them as well.