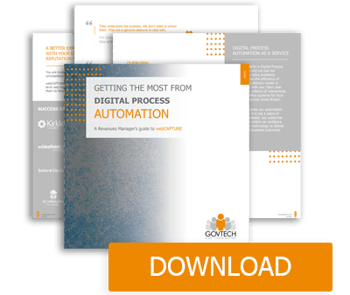 webCAPTURE is Govtech's digital process automation service for Council Tax and Business Rates transactions. webCAPTURE transforms productivity in the revenues service by automating the processing of millions of online transactions submitted online by citizens, students and landlords. Remaining tasks are then sorted into work queues, prioritised according to the impact on collection and recovery.
Complete end to end automatic processing and all documentation archived into your DMS

Exceptions routed into DMS work queues with a High, Medium or Low priority

Automate transactions including; change of address, discounts, direct debit, students and more

Integrate with most vendors and systems, including over 50 APIs
A successful channel shift strategy lowers costs. Most web forms aren't integrated with the revenues system, and are manually keyed in. Even partly integrated forms increase workloads, as officers need to check what has been done before completing. Therefore, to get value from channel shift and associated savings, web forms must be fully automated. This is where webCAPTURE can help.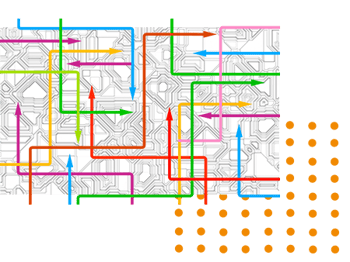 Automate even the most complex transactions, including refunds or credit transfers

Improve communications and response time for citizens and customers

Focus resource on complex matters to aid collection, such as:

rise in unusual arrangements

missed bills/payment arrangement plan

pre-summons arrangement for soft recovery
When webCAPTURE says it has completed a transaction, it means just that.
webCAPTURE is a hosted service which fully integrates Council Tax and Non-Domestic Rates web forms with the R&B system. It works with any forms that produce xml output, or with its own. There is no software to buy, no new technology to master and nobody logs in to webCAPTURE. The entire service is delivered over secure communications lines which link your web forms with webCAPTURE and either NEC Revenues & Benefits (previously known as Northgate) or Capita Revenues.
webCAPTURE is simple and non-disruptive to deploy; we set it up, you test the capability and then on live, you implement your publicity strategy. During the first few weeks, Govtech will highlight any specific discretionary rules which are preventing higher levels of automation.
Once an online form is completed, the content is routed directly to webCAPTURE where it validates the address and the parties involved, applies legislative and business rule checks, and then breaks the service request down into a series of logical instructions.
APIs are used as some transactions are too complex for a single interface. webCAPTURE uses around 50 APIs, and multiple could be used to complete one transaction.
Which APIs are called, in what sequence and what data they are given is entirely case specific – all of this is managed by webCAPTURE and because the process is automated, it gets it right every time!
Transactions processed by webCAPTURE acquire 1 of 12 potential classifications; Govtech uses these to internally analyse precisely what has occurred and enable a cycle of continuous improvement.
webCAPTURE automatically maps its classifications to 6 statuses in your document management system (DMS). Your DMS can be configured with separate work queues for each status or, more typically, to route the other outcomes into High, Medium or Low priority work queues:

HIGH – items which are 'Unmatched' (e.g. new builds not yet on the database)
MEDIUM – 'Follow-on Action' or a 'Notification'
LOW – minor details were not completed, you may, or may not, wish to action
ARCHIVE – no action required; the item has been completed and closed in DMS
webCAPTURE auto-indexes into any DMS as long as the council has licensed a suitable API or Import module. Currently supported DMS include Civica W2, Information@Work, Northgate Documents, Documentum and ICLips.
webCAPTURE is a service, so you pay an annual service fee which is based on your CT Chargeable Dwellings, a published figure. There is no limit to the volume of transactions you can submit.
Govtech's web forms are licensed on an annual term rental basis. However, webCAPTURE can accept information from any forms that can produce XML.