Digital transformation for revenues
Let Govtech's digital process automation service webCAPTURE facilitate your online transactions, to save resources, manage volumes and to provide a better experience for your citizens and customers.
Improve revenues efficiencies, by removing impediment to efficiencies
Integrating with NEC Revenues & Benefits (previously known as Northgate) and Capita R&B systems, webCAPTURE automates around 80% of the manual processing that currently consumes team resource in handling transactions submitted online for Council Tax and Business Rates transactions.
As the service is tailored to your own configuration and business rules, there is no need for intervention and Revenues Officers only need to work on cases that require their skills and expertise, thus greatly freeing up their time, so you get much more from them.

Overcome the backlog
Hit high collection rates and keep on top of increasing volumes by automating time-intensive manual tasks.

Tried and tested
Over 35 councils use webCAPTURE as a reliable and trusted solution; even the S151 officer can be reassured there is no risk in working with us.

Bring money in
Use newly freed up resource to retrain staff to be collectors, limiting the use of bailiffs and to focus on aged debt.

Biggest digital win
Demonstrate your ROI in digital transformation and gain further buy in to expand your unified, single digital experience across other areas.

Focused on your goals
We are specialists in R&Bs, and our business analysts work with you to define your business outcomes and the value realised by achieving these.

Enhanced customer experience
Citizens can self-serve 24/7, and with our web forms gathering the right information first time, this enables a speedier response for them.
Realise the potential of digital process automation
80%
reduction in workload
30m
interactions processed per annum
£10b
revenue collected per annum
4.5m
chargeable dwellings managed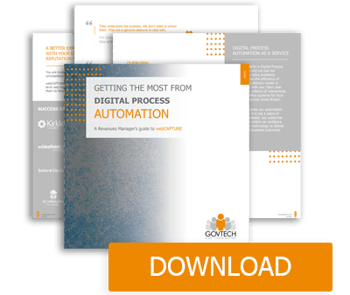 webCAPTURE is Govtech's digital process automation service for Council Tax and Business Rates transactions. webCAPTURE transforms productivity in the revenues service by automating the processing of millions of online transactions submitted online by citizens, students and landlords. Remaining tasks are then sorted into work queues, prioritised according to the impact on collection and recovery.
Complete end to end automatic processing and all documentation archived into your DMS

Exceptions routed into DMS work queues with a High, Medium or Low priority

Automate transactions including; change of address, discounts, direct debit, students and more

Integrate with most vendors and systems, including over 50 APIs
A successful channel shift strategy lowers costs. Most web forms aren't integrated with the revenues system, and are manually keyed in. Even partly integrated forms increase workloads, as officers need to check what has been done before completing. Therefore, to get value from channel shift and associated savings, web forms must be fully automated. This is where webCAPTURE can help.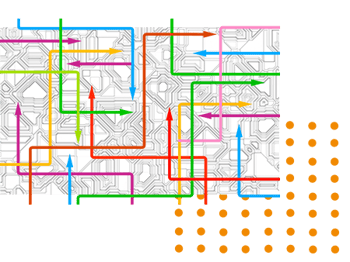 Automate even the most complex transactions, including refunds or credit transfers

Improve communications and response time for citizens and customers

Focus resource on complex matters to aid collection, such as:

rise in unusual arrangements

missed bills/payment arrangement plan

pre-summons arrangement for soft recovery
When webCAPTURE says it has completed a transaction, it means just that.
webCAPTURE is a hosted service which fully integrates Council Tax and Non-Domestic Rates web forms with the R&B system. It works with any forms that produce xml output, or with its own. There is no software to buy, no new technology to master and nobody logs in to webCAPTURE. The entire service is delivered over secure communications lines which link your web forms with webCAPTURE and either NEC Revenues & Benefits (previously known as Northgate) or Capita Revenues.
webCAPTURE is simple and non-disruptive to deploy; we set it up, you test the capability and then on live, you implement your publicity strategy. During the first few weeks, Govtech will highlight any specific discretionary rules which are preventing higher levels of automation.
Once an online form is completed, the content is routed directly to webCAPTURE where it validates the address and the parties involved, applies legislative and business rule checks, and then breaks the service request down into a series of logical instructions.
APIs are used as some transactions are too complex for a single interface. webCAPTURE uses around 50 APIs, and multiple could be used to complete one transaction.
Which APIs are called, in what sequence and what data they are given is entirely case specific – all of this is managed by webCAPTURE and because the process is automated, it gets it right every time!
Transactions processed by webCAPTURE acquire 1 of 12 potential classifications; Govtech uses these to internally analyse precisely what has occurred and enable a cycle of continuous improvement.
webCAPTURE automatically maps its classifications to 6 statuses in your document management system (DMS). Your DMS can be configured with separate work queues for each status or, more typically, to route the other outcomes into High, Medium or Low priority work queues:

HIGH – items which are 'Unmatched' (e.g. new builds not yet on the database)
MEDIUM – 'Follow-on Action' or a 'Notification'
LOW – minor details were not completed, you may, or may not, wish to action
ARCHIVE – no action required; the item has been completed and closed in DMS
webCAPTURE auto-indexes into any DMS as long as the council has licensed a suitable API or Import module. Currently supported DMS include Civica W2, Information@Work, Northgate Documents, Documentum and ICLips.
webCAPTURE is a service, so you pay an annual service fee which is based on your CT Chargeable Dwellings, a published figure. There is no limit to the volume of transactions you can submit.
Govtech's web forms are licensed on an annual term rental basis. However, webCAPTURE can accept information from any forms that can produce XML.
CREATE YOUR BUSINESS CASE
Want to know how much you can save by utilising channel shift to its true extent?
Typically, a mid-sized Council with 80,000 Chargeable Dwellings, which achieves an online take-up rate in Revenues of 50% in Yr 1, 65% in Yr 2 and reaches a plateau of 80% thereafter will free up a total of around 25 man-years over 5 years, the net value of which is approximately £350,000 after service fees. This is a pure financial justification. Business cases which include the value of work to which freed up resources are reassigned (e.g. Collections) will often show much higher returns on investment.
Tell us your metrics and we will calculate your business case.
What transactions does webCAPTURE handle?
There are a variety of forms and processes which enables webCAPTURE to automate both common and complex transactions, these include:

Working together in synergy, to deliver your business outcomes
Our commitment is to capture, validate, process, and load your CT and NDR transactions quickly, accurately, and securely. Working together, we strategise from the outset to deliver outcomes that achieve your goals; using our expertise and proprietary technology to make it happen. Our service is tailored to meet your configuration, meaning you're in control and set the business rules, defaults, and parameters.
And, since webCAPTURE is a service, the pressure is on us to deliver the outcomes every day, so you'll want to keep working with us! So why Govtech?

Right first time
We understand the importance of reputation. We guarantee that webCAPTURE delivers your outcomes and abides by your rules; so, it's right every time.

This is all we do
We are experts and specialists in Revenues and Benefits. We deliver our services with integrity, and our customers soon see that we genuinely want to solve their problems.

Continuous

support
We are there whenever you need us (business hours permitting). We don't charge for our hours, as we want to ensure you make the most of webCAPTURE and keep those automation rates high!

Share in success
One of our goals is to make each customer a reference site. We're proud of their achievements and are content to be held in high regard.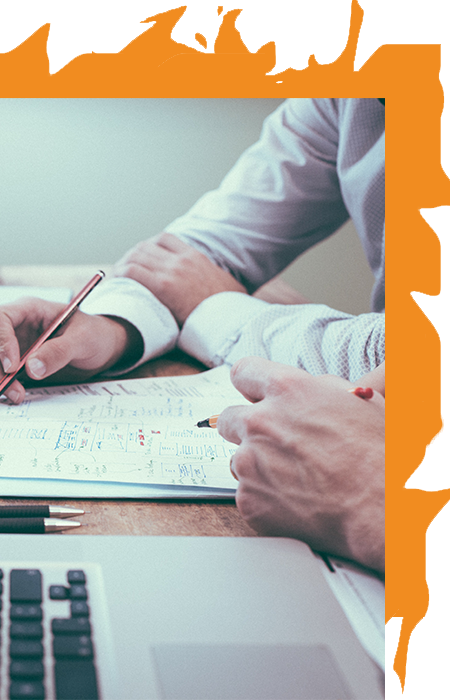 Discover how Kirklees Council utilised digital automation with webCAPTURE, to free up resource to create a new team of 8 people to focus on aged debt recovery.

Let's start a conversation
If you too want to hone the value of channel shift and use webCAPTURE to make it a reality, well there's only one thing left to do…
"They listen, they respond positively, they're pragmatic and they build end-to-end R&B solutions that work. I would highly recommend Govtech, the best partner we have worked with in the last 10 years." Steve Bird, Head of Welfare & Exchequer | Kirklees Metropolitan Borough Council
"It has been an extraordinary and relentless year for the team in supporting both citizens and businesses. Luckily for us, with so many colleagues being moved onto grant work, having Govtech was invaluable and enabled us to maintain the everyday administration of my service." Martin Smith, Head of Revenues | Bristol City Council
"We have been able to keep up with the work without needing to take on more temporary staff to replace the experience of those who have retired. It's enabled a smaller and less experienced team to cope sustainably with a rising, complex workstream." Anne Banner, Benefits Manager | North Hertfordshire District Council
"Automation has been vital. The more of it we can do, the better. It's difficult to imagine how we would still be managing without it." Emma Rose, Strategic Development Manager | Plymouth City Council
"They understand the business. We don't need to school them. They are a genuine pleasure to deal with." Neil Jamieson, Customer Service Manager | City of Edinburgh Council