Replay: Exploiting automation in Revenues & Benefits
On 27th April, we participated in the Granicus Customer Summit and shared, with a new audience of digital transformation and IT professionals, the role digital process automation plays in digitising Revenues & Benefits, two key core service areas.
We specialise in R&B automation; our teams are built around a core of ex-local authority practitioners, so we understand the day-to-day workload, resource challenges and, indeed, the apprehension about automating such sensitive and complex work. In many unitary councils, R&B typically accounts for up to 40% of customer contact and much more than that in district councils. Customer interactions are much more complex than reporting a missed bin and decision-making is strictly governed by regulations and legislation.
So, it's a complex workstream to fully automate and the lack of reliable automation means that all too often, the benefits derived from digital services in R&B fall short of other digital initiatives. Until now.
Working in partnership with Granicus, our 'off the shelf' hosted webCAPTURE solution fully automates the processing of online transactions from govService web forms, straight into Northgate and Capita R&B systems. With automation governed by council business rules, councils are in complete control of what gets automated and what doesn't.
Councils now have more choice and, in our session alongside Sandwell MBC, you can discover the business outcomes to expect and a customer's view of the service transformation this has enabled.
Replay our session at Granicus UK Summit '21
Automation in Revenues & Benefits and how to exploit it
Andrew Melvin, Managing Director, Govtech Solutions, And
Carl Jones, R&B Operations Manager, Sandwell MBC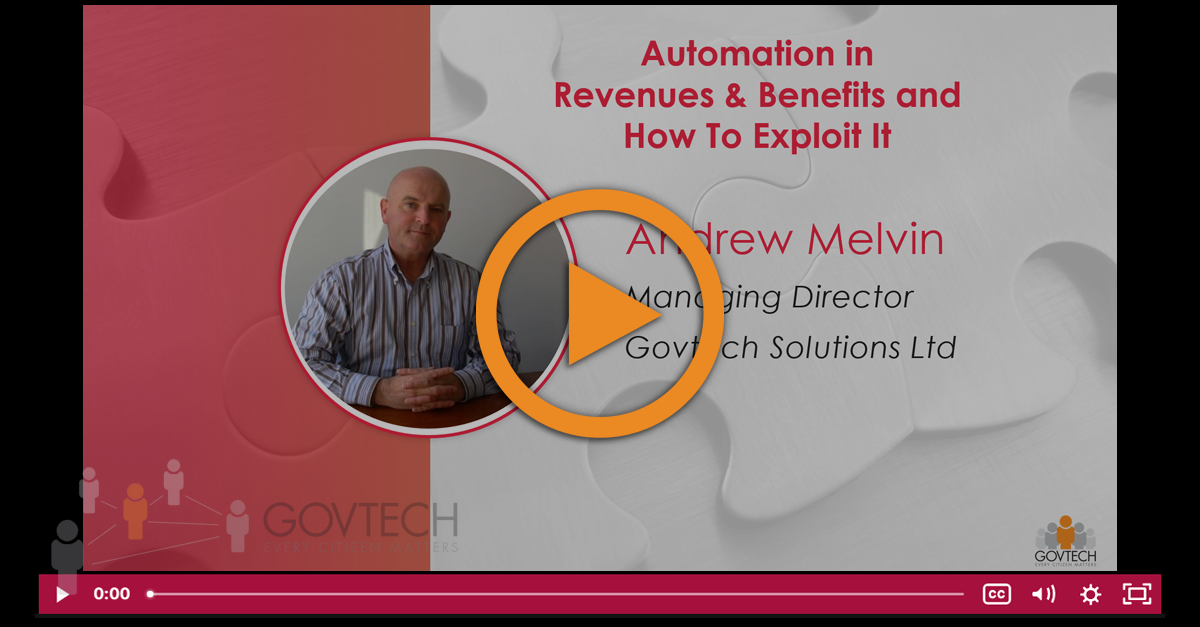 We are here to help make your job easier and, by utilising Govtech's R&B digital process automation services, not only will you transform customer experience, you will also free up capacity in your service teams to focus on your most important priorities.
Find out what returns you can expect to achieve

Our business case model has been proven across 35 councils and backed by published automation statistics for those sites. It can be populated with simple data about your Revenues Service and calculates how much time is being consumed by manual processing now, which you can readily verify, and what this is costing. It will calculate how much of this time you can save for a given level of online take-up and produce your 'Invest to Save' business case for you.

Typically, a mid-sized Council with 80,000 Chargeable Dwellings, which achieves an online take-up rate in Revenues of 50% in Yr 1, 65% in Yr 2 and reaches a plateau of 80% thereafter, will free up 3.5 man-years in Year 1, rising to 5.8 man-years in Year 3, a total of around 25 man-years over 5 years. The total gross value of the time freed up is approximately £750,000. This information, based on actual outcomes in other councils like yours, will help you to produce a financial justification to invest in automation. Business cases which include the value of work to which freed up resources will be reassigned (e.g. Collections) will often show much higher returns on investment.

Answer some simple questions about your Revenues service and we will calculate your business case.