Govtech Customers Win at the IRRV Awards 2019
Govtech customers were prominent at the IRRV Awards Dinner and we are delighted to congratulate Sandwell MBC, Dumfries & Galloway, Salford City and Reigate & Banstead for winning well-deserved Awards in Excellence or the Team of the Year categories, and to equally congratulate the City of Edinburgh and Cheshire East councils for being short-listed for Awards.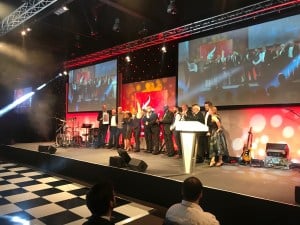 For the fourteenth year in succession, Govtech was pleased to attend the IRRV Annual Conference, held earlier this week in Telford. Despite the chaos and uncertainty surrounding national politics, the conference mood was positive with, if not an actual end to the financial challenges of austerity in sight, at least a sense that things are beginning to change.
With new priorities emerging, it was interesting to hear from councils how they are actively planning and preparing to reap dividends from rising levels of online self-service and digital process automation. There was a consensus that it was vital to free up skilled resources to further concentrate on the ever-growing challenges and complexity involved in supporting the most vulnerable people in our communities. Better exploitation and sharing of data to support staff delivering earlier support programmes and interventions were seen as critical to this.